PLENTY Twenty / Plenty 20
Welcome to the online bit of my SALA art exhibition for 2020! The in-person bit is at Mockingbird Lounge through August 2020.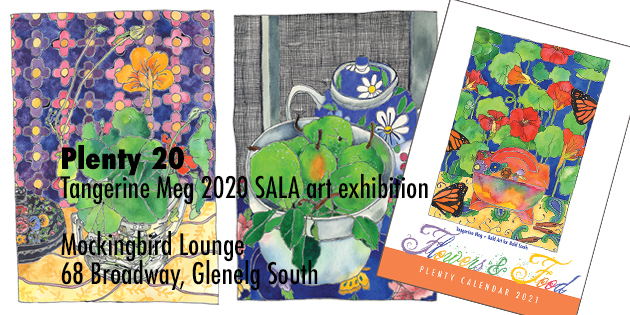 This collection of paintings contains quite a few moments of fleeting yet undeniable beauty from lockdown.
Twelve Still Lifes
I think the idea that " Still Lifes are peace and prosperity in miniature" is true, don't you? My still lifes [that is the correct plural, by the way] are an acknowledgment of microcosms of delight … reflecting beauty in the everyday.
Food is nourishment. You'll note pears feature in this collection. A dicey time with health and diet has pears as my current primary fruit! I'm grateful, they are a great shape to draw, and their green colours so juicy! #pearappreciation
Fortunately for us flowers – besides their biological function – bring joy to humans, too! Nasturtiums are one of my exuberant garden favourites, along with marigolds and small handfuls of daisies.
Pattern – oh, the sheer delight! And the joy of colour, kindred spirit … Mmmm…

Take a piece of the exhibition home!
An original painting will bring a unique, buoyant energy to your wall. Make one your own! Pictures are custom framed and your new artwork can be collected from Mockingbird Lounge at the end of August, 2020.
Companion calendars – a collection of the twelve exhibition images combined with 2021 dates, and quotes of goodness and individuality
An exhibition pack of 12 cards to send your love
If you can't be at the exhibition in person for whatever reason, you can make a piece of it yours online (see below).
Mockingbird Lounge
How fortunate I am to hang my visual stories amongst books full of stories! Thanks for hosting me and my artwork, Stacey!
Mockingbird Lounge is a community-focussed book store, with book clubs and crochet and real china cups of tea, coffee and soup, and more! Read reviews of Mockingbird Lounge here. And here.
I'll post the updated days and times of opening once Mockingbird Lounge is reopened after moving premises! So wise to organise shifting thousands of books while COVID had us locked down anyhow!
Stay in the loop!
Follow me on Facebook and instagram
Follow Mockingbird Lounge on Facebook and instagram
Follow this exhibition on Facebook if you like to remember events that way.
Join my mailing list for behind the scenes glimpses leading up to the exhibition, and 10% off code for 2021 art calendars!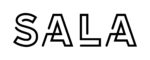 Very soon, you'll also find us on the SALA website.
Make your favourite your own – shop below!
One-of-a-kind pictures will be available in August only from the exhibition and in June and July only here on-line (see below). (This is so we don't inadvertently sell a one-off item to two separate people.)
However, items there are multiples of – calendars, journals and cards – are available at both the exhibition and below.