Hoorah! You're here! Welcome!
Come in and nourish your eyes & soul with my vibrant, happy art!
Take a seat and put your feet up, bold soul, here in the delicious afternoon sun beside the cat perhaps. I'll put the kettle on :D
Do you want to be a part of a Bold Women / Bold Soul movement? You've come to the right place. We're all about bold soul joy, connection and recognition here at the Tangerine Tribe…
Kindred spirits are not so scarce as I used to think. It's splendid to find out there are so many of them in the world.
~ L.M. Montgomery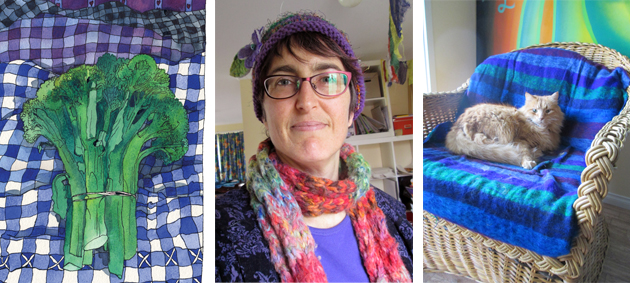 Want to hang here a while with us kindred spirits? … You might like the Tangerine Treasury – sign up for the good vibe secret download library & get my Studio eLetters each month!
Happily, it's very easy to sign up for the Tangerine Treasury – here's what you get when you sign up:
The Tangerine Treasury key unlocks a secret library of bold art downloads, my gift to you, bold soul. There are bookmarks, colouring pages, bookplates, a framing leaflet for new art collectors and a phone background! [And I frequently add more]
Studio eLetters arrive monthly-ish with news and stories from the heart of my studio, fresh bold art – the paint is only just dry! – and joie de vivre
Each month you get a blog post round up direct to your inBox
If you include your birthday on the sign-up form, I'll send you a fun happy birthday email
You also get 10% off full price calendars! Woot! What's not to love? Join the Tangerine Treasury tribe!
New here? Here are some happy art blog posts to get you started:

Cats aren't perfect but we love and make art of them anyway. And lose them.
Sometimes I interview wonderful people. Sometimes I make lists – one of my favourites is this one on the bold art of bike riding.
Other times I muse about health (including the making of thyroid bold art and the thanking of piggies), Sunshine, women, flowers and courage, bold art and happiness and life, society or the positive side of social media.
Happy Art Gifts for You
For your key to the secret downloads library, the Tangerine Treasury (<<click to read more), simply sign up below. Or click this link.

Talk soon,
Love Meg x o
Save
Save
Save
Save
SaveSave
SaveSave