See my art – and maybe even me – live and in person in South Australia!
Are you elsewhere in the world? That's where the internet comes in handy! *Waves across the oceans*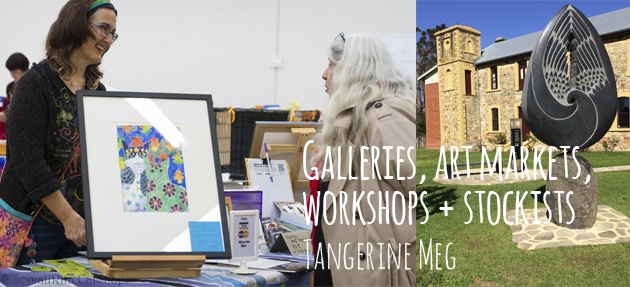 Art Markets
Artisans at the Main St Willunga Farmers Market
23 November. 8.30am – midday. Main St, Willunga.
Xmas Gift Fair at Willunga Waldorf School
6 December. 3pm – 7pm. Willunga Waldorf School.. I'll be on the oval in a blue marquee.
December 14. 9am-1pm.  Old Show Hall Willunga. And the second Saturday of each month
Art Galleries + Other Stockists
I'm delighted to have selections of my artwork displayed in these fabulous locales. Please confirm current open hours with shop/gallery :)
* = stocks my calendars and may still have some left!
12 Hays St, Goolwa, SA 5214
18 Gawler St, Port Noarlunga SA 5167
Blackwood – 2 / 183 Main Road, Blackwood, South Australia
Magill – 411 Magill Road, Magill and now at
Brighton – Brighton Road – just North of Jetty Road, Brighton.
Hardys Tintinara Winery, 202 Main Road, McLaren Vale, South Australia, 5171
Aldinga Arts Eco Village, Unit 3, 173 Port Road, Aldinga, SA.
Marion Cultural Centre, 287 Diagonal Road, Oaklands Park, South Australia
63a Broadway, Glenelg South, SA 5045
Little Main Street, Palmwoods, Q, 4555
(Please note header for Otra Vez links to their FB page, which currently displays previous location in SA)
558 Magill Road, Magill, South Australia.
16 / 166 The Parade, Norwood, South Australia.
11 Frome St, Adelaide, South Australia.
If you ever find a lovely gallery or shop where you reckon my work would be a great fit, message me and/or let the shop owners know!
Art Exhibitions
Little Treasures for Christmas
17 November – 21 December. Tues-Fri 10am – 5pm. Saturday 12 – 5pm.
Pepper St Arts Centre, 558 Magill Road, Magill.
SALA August 2020
Mockingbird Lounge, 63a Broadway, Glenelg South, SA 5045
Join my mailing list to be first bird in the loop about upcoming events! Once subscribed, you also get bucket loads of cool free stuff in the Tangerine Treasury.
Art Workshops
Check this link >> Drawing and Painting Lessons << to see what's currently open for booking.
Class sizes are limited! To hear first when new art workshop dates and courses are announced, join my Tangerine Juice:Studio Letters mailing list, and fill in your preferences about lessons when you sign up. I'm deliberately keeping lessons small in size, and the people who are invited first are either on my mailing list or have already registered their interest. I'd love to see you there!
SaveSave
SaveSave
SaveSave
SaveSave
SaveSave
SaveSave
SaveSave
SaveSave
SaveSave
SaveSave
SaveSave
SaveSaveSaveSave
SaveSave
SaveSave
SaveSave