See my art – and maybe even me – live and in person in South Australian galleries & stockists, art markets and workshops! Are you elsewhere in the world? That's where the internet comes in handy!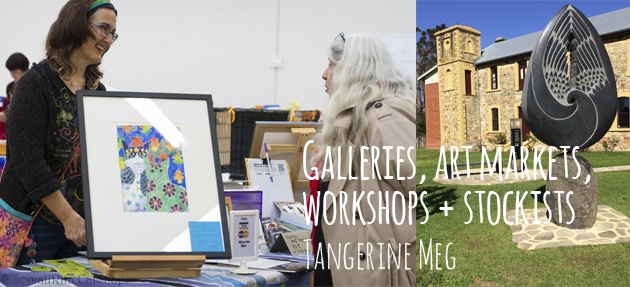 Upcoming Art Market + Exhibition Dates
Contact me if you've any questions or if you want me to bring you a particular painting or other art item.
September 9 9am – 1pm. Old Show Hall, 2 Main Street, Willunga, South Australia 5172
And the second Saturday of each month.
Port Festival Artists' Market
October/November
Murray Bridge Sixth Street Makers Market
November 4th. Sixth St, Murray Bridge.
Etsy Made Local
November 25th. Oxford Tce, Unley
Little Treasures
Pepper St Arts Centre. November – Xmas 2017
2018 Fringe Festival Cat Exhibition
Pepper St Arts Centre. February 2018. Magill Road, Magill.
Art Galleries + Other Stockists
I'm delighted to have my artwork displayed in these selected locales.
Hardys Tintara Winery, 202 Main Road, McLaren Vale, South Australia, 5171.
Thursdays to Mondays from 10am to 5pm
Marion Cultural Centre, 287 Diagonal Road, Oaklands Park, South Australia.
Monday – Friday 10am – 4pm. Saturday 12 – 4pm. Sunday 1 – 4pm. Closed public holidays.
68 Main Street, Hahndorf, SA, 5245. FREE ENTRY.
Open 7 Days 10am – 5pm. Closed Christmas Day, Boxing Day, New Years Day & Good Friday
1/1 Aldinga Road, Willunga, South Australia, SA 5172.
Open 9am – 5pm.
Shop 2 Oak Plaza, 11 Mount Barker Road Stirling South Australia 5152.
Open: Monday – Saturday 10am – 5pm. Sundays and Public Holidays 11am – 4pm

63a Broadway, Glenelg South, SA 5045.
Tuesday – Friday 9am-5pm. Saturday & Sunday 10am-5pm. Closed Monday.
27 Sixth Street, Murray Bridge, South Australia 5253.
Tuesday to Saturday: 10am to 4pm. Sunday: 11am to 4pm. Closed public holidays.
185 Port Road, Aldinga, South Australia, SA 5173. Check hours on Facebook page. Days = Thurs – Sun.
558 Magill Road, Magill, South Australia.
Tuesday to Saturday 12 noon – 5 pm
16 / 166 The Parade, Norwood, South Australia.
41 The Strand, Port Elliot, SA 5212.
Open: 11am – 3pm (Check days on Facebook by clicking linked header)
11 Frome St, Adelaide, South Australia.
Mon – Thu 10am-6pm. Fri 10am-9pm. Sat 10am-5pm. Sun 12-5pm
2 / 183 Main Road, Blackwood, South Australia.
Monday 10:00 am – 2.00pm
Tuesday, Wednesday, Friday 10:00 am – 4:00 pm
Thursday 10:00am – 5:00pm
Saturday 10:00 am – 2:00 pm
Closed Sunday & Public Holidays
Art Exhibitions
My first solo art exhibition in over 20 years, Happy to be Here Exhibition was in September 2017 at Goolwa, SA!
Join my mailing list to be first in the loop about upcoming events! And you also get cool free stuff in the Tangerine Treasury.
Art Workshops
Courses online, and a few sessions in person, coming soon. To get first pick when new art workshop dates and courses are announced, join my Tangerine Juice:Studio Letters mailing list, and fill in your preferences about lessons on the newsletter sign up page.
Save
Save
Save
SaveSave
SaveSave
SaveSave
SaveSave