Welcome to your recurrent reminder of feist, individuality and kindness – your Tangerine Meg 2019 Bold Art Calendar!
Scroll down and click the Add to Cart button to order yours!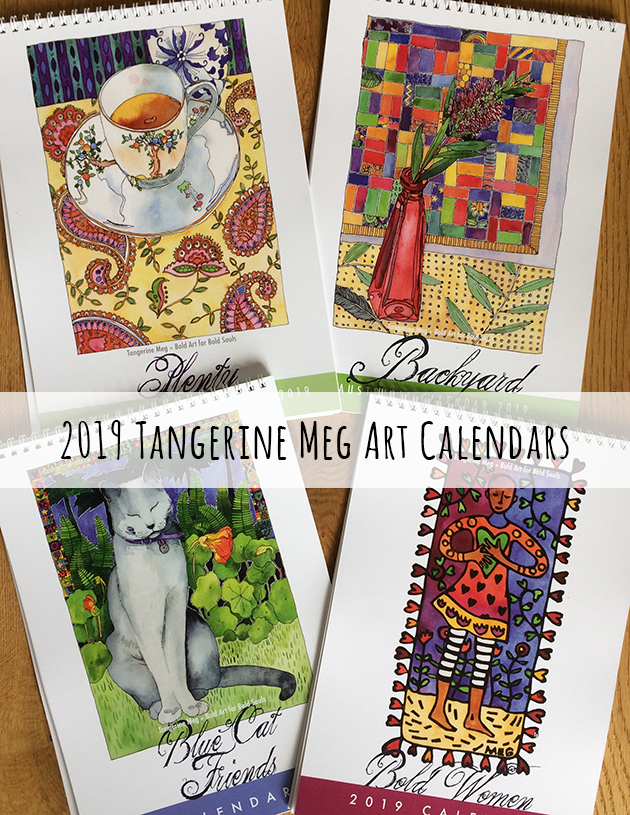 With one of my bold art calendars on your groovy wall, you'll have a visual reminder of the inspiring, naturally buoyant part of you that can sometimes use a nudge. You'll look forward to the day you turn the page, too, to reveal the next fresh artwork paired with a delicious quote.
What a irresistible idea for a gift – your giftee will think of your thoughtfulness with love all year :)
You – or your dear friend, graceful funny aunty or uncle, beloved sister or shining mentor – will find:
A vibrant, high-quality print for each month of 2019 … a bold piece of art by yours truly, steeped in happy vibes
A heartwarming quote to hold with you each month
An art display for your kitchen fridge or desk, or as a feature with your altar or succulent collection
Goldilocks sized spaces for jotting in your schedule … not so big as to enable accidental over-scheduling!
The calendar opens up to a tall, elegant format (see measurements below), and when closed is sweet and neat for easy-breezy mailing :)
The sumptuous cover has a generous taste of the artwork inside!
Themes for 2019 Art Calendars:
Plenty – Flowers and Food in abundance – for gardeners and Farmers Market fans :)
Blue Cat Friends – #CatLovers unite!
Backyard – For your ex-pat friends who have everything
Bold Women – which bold friend would love this? Maybe you want one, too!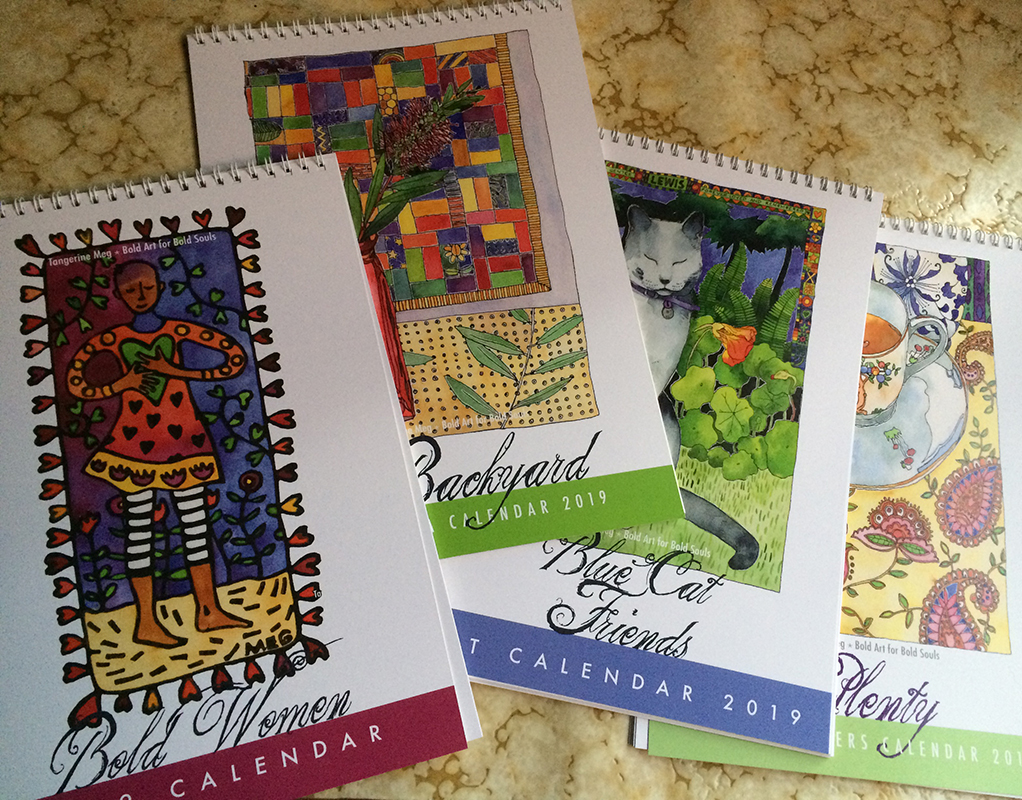 Pages, in hand:
The pages are shiny with great colour and feel silken, durable and dense with recycled goodness!
Pages, techy details:
Calendar pages are A4 in size, that is 210mm x 297mm (about 8″ x 11.5″). Covers are 350gsm (grams per square metre) in weight, and internal pages are 200gsm. The silk stock (note: pages not made from silk) is Forest Stewardship Council (FSC) certified, Carbon neutral & 55% recycled. The calendar is wire bound at the head, and has a hole for hanging.
Caledars will be dispatched within 2 working days of your order!
Bold Souls say:
"… just want to say I am loving the quotes on this years (2018) calendar … I say thank you to you every morning as I read them! "
~ anonymous bold soul
"Double daily inspiration from Meg's beautiful art AND the inspiring quotations on her calendars!"
~ Michele McCrae, Adelaide
"Meg's artwork is beautiful, colourful, cheerful and filled with detail and hidden secrets. I love it!" ??
~ Beady, Adelaide
"Thanks Meg. I'm looking forward to getting my new calendar. I use it at work and it brings me great pleasure. :) "
~ Ben, Adelaide