Turn over a new leaf every month of 2018, to happy art and fresh heartwarming quotes, with your Tangerine Meg limited edition art calendar!
Click on any picture below to whoosh to my online Gallery Shop to order your 2018 bold art calendar!
Join my mailing list for an easy 10% off your art calendar! and read on for Early Bird price breaks only available until June 13.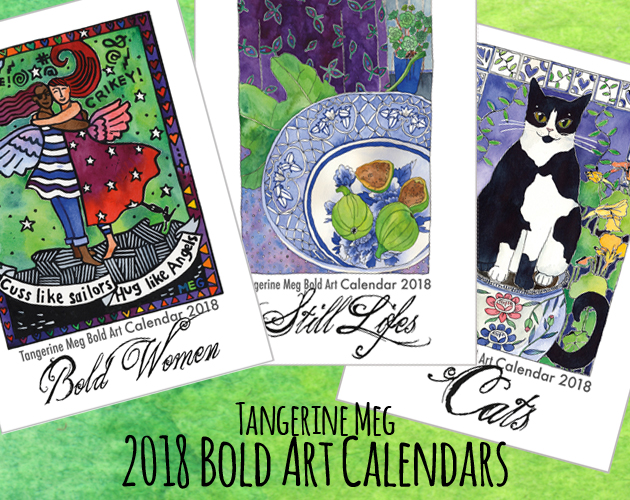 You – &/or your bold art calendar giftee – get:
•    Twelve vibrant, high quality prints of original artworks by yours truly, drenched in happy vibes – ideal for for your kitchen fridge, at your desk or in your reading nook.
•    A heartwarming quote paired with each picture, and a Goldilocks (just right) sized space for reminders.
•    The calendar opens up to generous dimensions (see measurements below), and when closed is neat for easy-peasy posting!
•    The gorgeous *new design* cover has a large sized taste of the artwork inside! See below and in Tangerine Meg online Gallery Shop for thumbnail sized pics of the whole year of art!
"Dear Meg, your calendars arrived and they are very lively, lovely and luscious! Thank you so much for your personal birthday inscription for H. And I even loved the way you addressed the envelope – I felt so special! Thanks again for your personal touches and your beautiful heart-warming art." ~ Philippa, Adelaide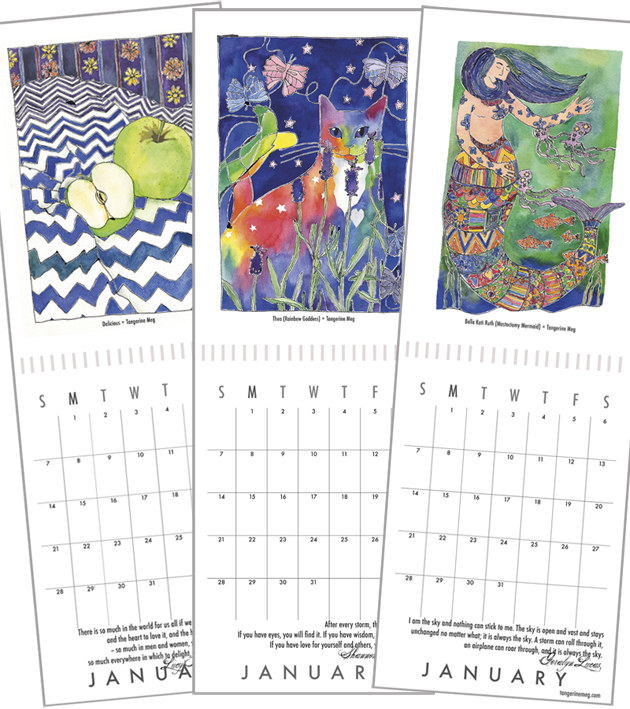 Art Calendar Themes
The three themes for the 2018 bold art calendars are Bold Women (and one bold man – see April), Still Lifes and Cats!
"It's a MUST have because seriously, your beautiful art work just makes me smile every time – it brings a joyful energy into my space – I love it so much!" ~ Poppy, Adelaide
 
Pages
Pages, in your hands bit: the pages feel silken, durable, dense with recycled quality!
Pages, tech bit: Pages are A4 in size which is 210mm x 297mm (about 8″ x 11.5″). Covers are 350gsm (grams per square metre) in weight, and inside pages are 200gsm. The silk stock (note: not made from silk) pages are Forest Stewardship Council (FSC) certified, Carbon neutral & 55% recycled. The calendar is wire bound at the head, and with a hole for hanging.
Have you one of the Bold Art Calendars by your desk as we 'speak'? The 2018 ones are on the same lovely paper, with updated layout design (see above) for extra clarity.
"Thanks Meg. I'm looking forward to getting my new calendar. I use it at work and it brings me great pleasure. :)" ~ Ben, Adelaide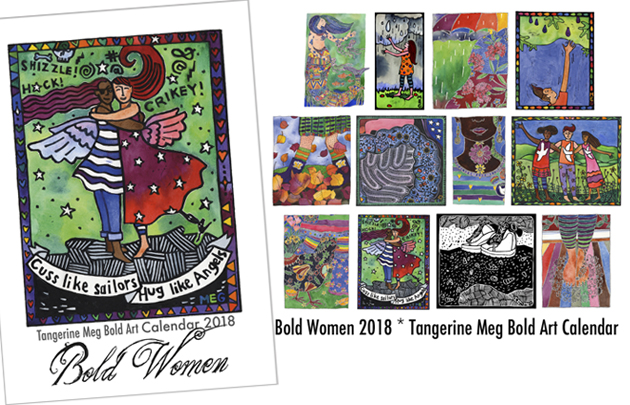 Pricing details
The bold art calendar retail price is still just $33 AUD (approx U$25 / £17)
Get 10% off until midnight on the very last day of 2017 by joining the [Tangerine Juice] eLetters Tribe
Early Bird art calendar orders are *now closed* … Thank you everyone who ordered in the Early Bird sale – Looking forward to shiping them to you in late June, as soon as they're back from the printer!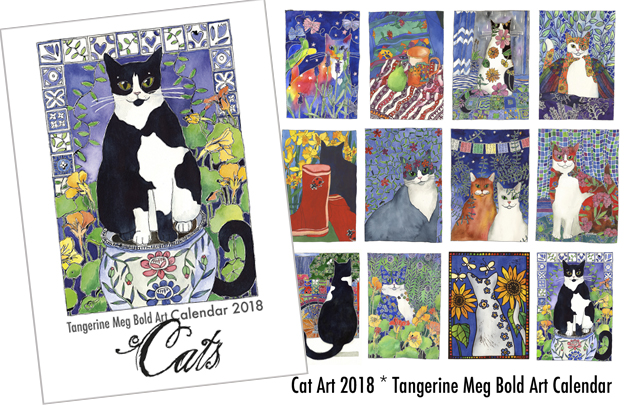 Questions?
Contact me if you've any questions about the 2018 bold art calendars! It's useful to know if I can make things any clearer :)
Talk soon,
Love Meg x o
PS As usual, together we're contributing to humanitarian aid with every purchase. #extrafeelgoodfactor
PS2 Remember: Sign up for my mailing list for an easy 10% off!
PS3 Technology permitting, there could be a means to purchase below, otherwise click on pics above!