Welcome to your recurrent reminder of feist, individuality and kindness – your Tangerine Meg 2019 Bold Art Calendar!
Order early – by July 20th – to save! Chirp chirp! Click this picture to order yours: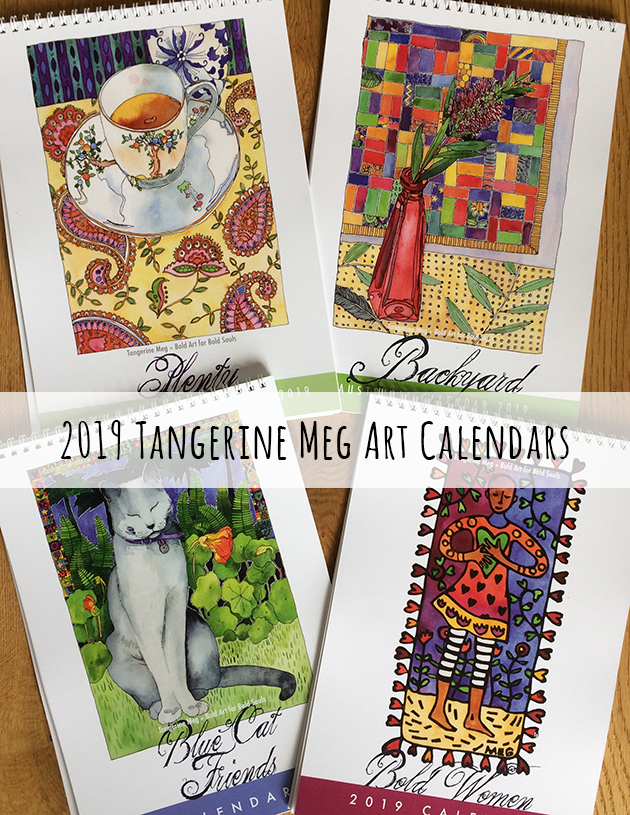 With one of my bold art calendars on your groovy wall, you'll have a visual reminder of the inspiring, naturally buoyant part of you that can sometimes use a nudge. You'll look forward to the day you turn the page, too, to reveal the next fresh artwork paired with a delicious quote.
What a irresistible idea for a gift – your giftee will think of your thoughtfulness with love all year :)
You – or your dear friend, graceful funny aunty or uncle, beloved sister or shining mentor – will find:
A vibrant, high-quality print for each month of 2019 … a bold piece of art by yours truly, steeped in happy vibes
A heartwarming quote to hold with you each month
An art display for your kitchen fridge or desk, or as a feature with your altar or succulent collection
Goldilocks sized spaces for jotting in your schedule … not so big as to enable accidental over-scheduling!
The calendar opens up to a tall, elegant format (see measurements below), and when closed is sweet and neat for easy-breezy mailing :)
The sumptuous cover has a generous taste of the artwork inside!
Themes for 2019 Art Calendars:
Plenty – Flowers and Food in abundance – for Still Life aficionados :)
Blue Cat Friends – #CatLovers unite!
Backyard – Australian vignettes, but with a twist… (no landscapes! no kangaroos!)
Bold Women – you know who this is for, right? Maybe you want one, too!
Click this text or the picture below to order your 2019 Bold Art Calendar today :)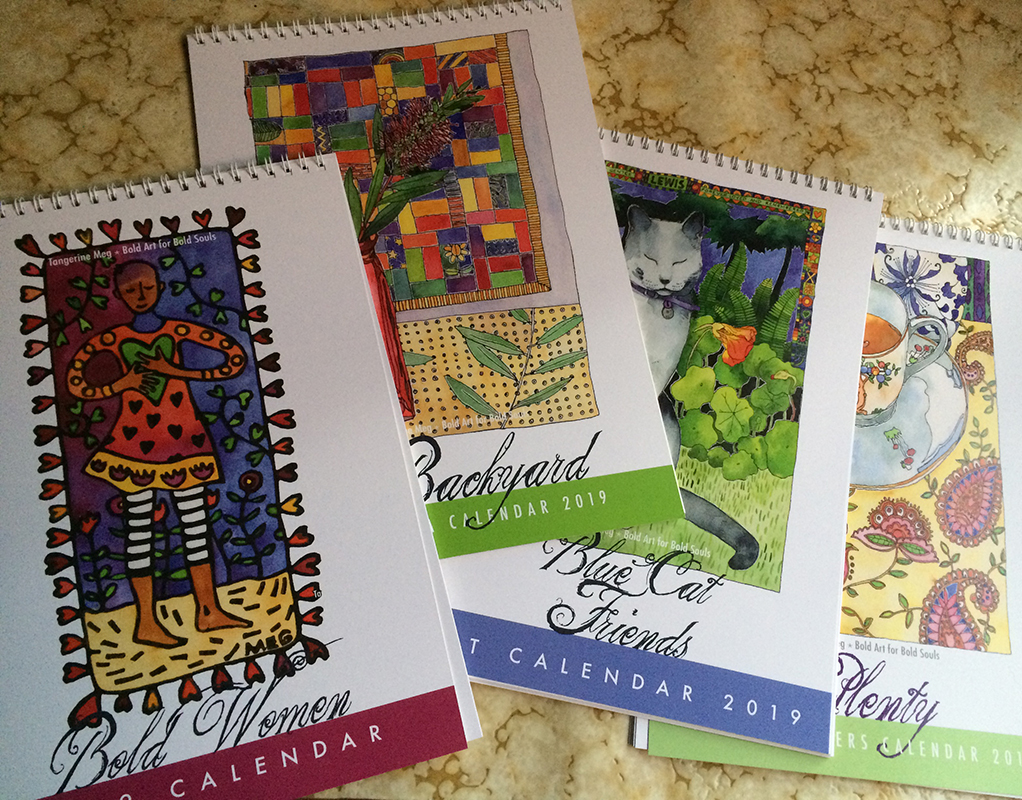 Pages, in hand:
The pages are shiny with great colour and feel silken, durable and dense with recycled goodness!
Pages, techy details:
Calendar pages are A4 in size, that is 210mm x 297mm (about 8″ x 11.5″). Covers are 350gsm (grams per square metre) in weight, and internal pages are 200gsm. The silk stock (note: pages not made from silk) is Forest Stewardship Council (FSC) certified, Carbon neutral & 55% recycled. The calendar is wire bound at the head, and has a hole for hanging.
Early bird orders will ship as soon as I have them in hand in late July 2018
After that, orders will be dispatched within 2 working days of your order!
Bold Souls say:
"… just want to say I am loving the quotes on this years (2018) calendar … I say thank you to you every morning as I read them! "
~ anonymous bold soul
"Double daily inspiration from Meg's beautiful art AND the inspiring quotations on her calendars!"
~ Michele McCrae, Adelaide
"Meg's artwork is beautiful, colourful, cheerful and filled with detail and hidden secrets. I love it!" ??
~ Beady, Adelaide
"Thanks Meg. I'm looking forward to getting my new calendar. I use it at work and it brings me great pleasure. :) "
~ Ben, Adelaide

Order early – by July 20th – to save! Chirp chirp! Here's how:
Recommended retail is $39 after July 20th. Until then it's $31! #earlybirdssave
As a thank you for ordering early and helping me cover printing, use the coupon codes below for further price breaks on 2-4 calendars, and further on 5 or more…
Ordering 2-4 calendars? Use code "EB_2-4*" (without the quote marks) for $1 off each from the already early bird price
Ordering 5+ calendars? Use code "EB_5*" (without the quote marks) for $2 off each from the already early bird price
Want to join the bold tribe – and get a members' 10% price break, from July 20th up until December?
Sign up for my mailing list here for 10% off full price calendars, [Tangerine Juice] Studio eLetters each month in your inbox direct from the heart of my studio, and access to the Tangerine Treasury Secret Download Library!SaveSave
SaveSave
SaveSave
SaveSave
SaveSave
SaveSave
SaveSave