Owned by a cat? You might like this personalised cat art…

Custom Cat Art – cat portraits by me, Tangerine Meg. From the heart of my studio to the wall of your home: an exclusive, unique, one-of-a-kind portrait of your fabulous, beloved cat.

Sylvia
"I am just thrilled with Sylvia's Custom Cat portrait. It gives me great pleasure to see her memorialized in her portrait every day. I cried when I received it. You were very easy to work with (in gathering the information and photos about Sylvia that made her special to me and what I wanted shown in her portrait).

You really captured not only the details that I loved about Sylvia but her essence. I love the flowers around her as well as the bright cheerful colors of her portrait.

Thank you again. Best regards…"
– Maureen

Celebrate your cherished feline family member!
Her paw prints are all over your heart. Just remembering her purr lights you up! And sometimes makes you cry, too. I've been there and I get it.
A Custom Cat Art portrait memorialises your feline family member – both outwardly and in essence – in my irrepressible rainbow style. I'll take the time to fall in love with your kitty too… just send me photos and answer the cat quirks questionnaire below.
You get a personalised, uplifting illustrated cat portrait for your wall to help you express your besottedness every single day.
Click this to gift yourself an order for your own cat art.

Camille
"I just got the Magic Camille painting that M and K ordered for me.
It is so beautiful and so like my pesky Camille that I cried."
~ Kate Rogers (owned by Camille), Michigan, USA

Your Custom Cat Portrait entails…
Your One of a Kind Custom Cat Art watercolor painting. Image size is approx 9 x 13 inches (23 x 33cm). Ships unframed – surrounding water colour paper allows room for mounting and framing – you can support a local (to you) framing artisan!

One or two JPEG images. One Facebook-ready image of the final artwork to share with friends – you might like to use it as your Facebook profile picture for a while :)
And – if you want it – a jpeg when the ink drawing stage is complete. You may like a happy surprise when the artwork arrives? Up to you. Let me know in the questionnaire (see below).
A pack of 24 Greeting Cards with envelopes featuring your cat picture
Your painting is shipped securely & tracked. When placing your order enter your best daytime parcel-receiving address – you'll need to sign for this.
Click this to give yourself – or a cat-loving friend – original bespoke cat art.

Katie
"Brilliant and a piece to cherish for ever!"
~ Poppy (owned by Katie Cat), Adelaide, South Australia

How to get your Custom Cat Art Portrait
Download Custom Cat Questionnaire.
Order your Custom Cat Art Portrait here. While Custom Cats are in beta testing, you and your feline friend save your place in the queue with one payment ($595) or first send a deposit of $297.50 (with the balance of $297.50 to be paid before your bespoke cat art is shipped). Note: join my mailing list for a $100 coupon code!
Send me Questionnaire answers + your cat photos, either via email or physical mail (see address at bottom of questionnaire). The photos are close and clear enough if we can see the colour of her eyes!
If your pet has lost an ear or eye, and you want them repaired in the painting, angel-like, let me know.
Note: prices are for one cat per portrait only.
Receive a confirmation email that the photos and cat art questionnaire have been received and that the photos are suitable to be used for reference.
An "ink stage" work in progress jpeg via email – if you requested it.
Try to think about other things – we know it's almost as exciting as getting a kitten – so you get a surprise in 4-8 weeks when your very own quirky-licious Custom Cat Art portrait is delivered to your doorstep.
Enjoy seeing your cat in a new way – like she's from inside a picture book! Warning: you may cry when you first open your parcel.
Click this to give yourself the gift of your own cat art.

Teal'c
"Cats and Stargate! Brilliant!" ~ Tangerine Meg x o

Good to know
To do justice to our moggy muses, I undertake a limited number of Custom Cat Art portraits. I (or a sweet helper) will email you if I'm booked up and your sweet kitty is on the waiting list.
Custom Cats are shipped Unframed. If you're a new art collector, download this: "How do I Frame my Lino Print? (Or One of a Kind Watercolour or other artwork on paper)?" for first timer framing tips.
After payment, email your answers and photos.
Or, If you print out the questionnaire, you can send it with physical cat photos to me at the address at bottom of questionnaire. Put sturdy cardboard on either side if you're sending physical photos to protect them in the mail. I'll return your photos with your Custom Cat Art portrait.
You own the painting itself. Other rights (prints, reproduction etc) are retained by me as the creator of the piece. I may select a few Custom Cat Art portraits for future products (calendars and other printed items) or promotional purposes or to share with other Custom Cat people.
Want extra detail about how this happens? Read this blog post that mentions guinea pigs! Or, in this post I step you through the stages of cat portrait making in photos – complete with sweet comments from my human guinea pig!
Thanks for reading! I hope this was useful. Contact me if you have any questions :)
Treat yourself! Click this to order your own unique cat art.

Pavlov and Lexi
"Thanks so much for the very beautiful picture, almost as lovely as the real thing" ~ AM

(photo by 'owner' aka. owned human)

Order yours!
Click this to get your own cat art. Click this to contact me if you have a question!
Love Meg :)

Lewis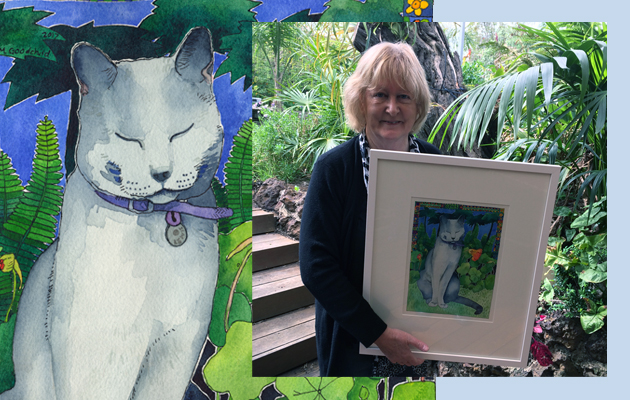 So thrilled to have our beautiful cat Lewis drawn and painted by Margie [aka. me, Meg]. She has captured his kind and gentle nature in the garden environment he loved….eyes closed….smiling in the sunshine. Lewis was our majestic Russian Blue that we sadly lost on the road over 3 years ago.

We are thrilled to have him 'return home' to us in this fabulous piece of art!

~ Jenny Coats, Cat Pad Enclosures

SaveSave
SaveSave
SaveSave