Thanks for your interest in this sunshiny inclusive tribe!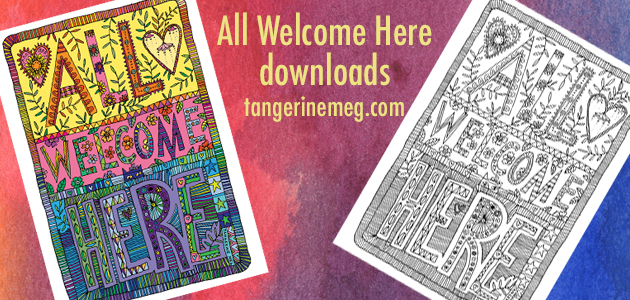 Are you welcoming of all humans *and* don't want to shout yourself hoarse?
Could this be a neat way for the store front of your yoga studio, quirky florist, consulting rooms or graphics palace to quietly welcome everyone in? What do you think?
Or, perhaps you're having a garage sale or want to make a statement in your kitchen …
If yes: I made this for you and the rest of the tribe!
The artwork gifts are all ready to download and print out…
Option 1: download the already-coloured-for-you poster to print out, or
Option 2: download the colouring page (and let's face it that's a little easier on your ink) and colour it in your own good self. [I'd love to see your colour choices… show me on facebook?]
Join my mailing list here or >> above right >> to get immediate access to the downloads along with the rest of the *Tangerine Treasury* secret download library.
Show your true colours
Have fun with colour while settled in with a cup of tea! While you pick colours and gently coax the page to rainbow-filled life, give yourself a pause to ponder what energy you really want in your life? And what energy you want to offer…  [Hah, it's like therapy with coloured pencils!]
Do you get my eNewsletters already?
If you're on my [Tangerine Juice] Studio eLetters mailing list, there's no need to resubscribe – you already have access to these printables! Simply use the key (code) from your most recent email from me to access the Tangerine Treasury.
To recap: How to access the poster and colouring page

Click this for my eNews or sign up below for "… more bold art news …" to get the entire Tangerine Treasury of downloads plus a monthly-ish, good-vibey Studio eLetter direct to your inbox from the heart of my studio, 10% off art calendars and other fun & perks! Once you sign up you'll receive a Welcome email, including the link and key (code) for immediate access to both the poster and colouring page version of All Welcome Here. Hoorah!
#coloringpagesforadults #optimism #inclusivity #artdownload #artistnewsletter #posterdownload
I hope you enjoy quietly shouting your inclusiveness, either from your poster print out, or when drenching this detailed page with colour a-plenty!
See you soon in your inBox!
Love Meg x o
PS Coming soon: printed-for-you versions available to order from my online gallery shop! Stay tuned.