Hello, you wonderful soul!
Does vivid, surprising colour spark a joy in you that words don't go anywhere near?
You've come to the right place :) Welcome, kindred spirit!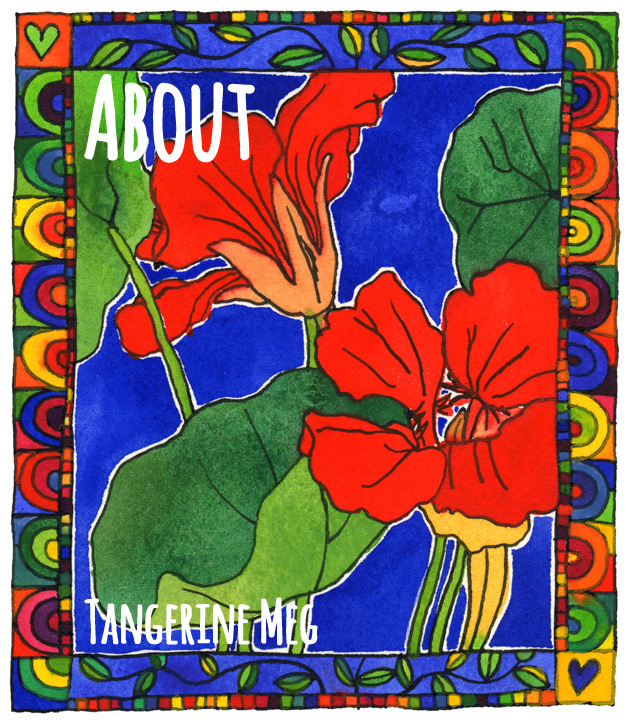 I believe that each nourished soul brings a little sanity back into the world. My work is about making that happen with colourful, joyous art.
I believe the world is crying out for people who are in touch with their joy, their sanity, their individuality.
Those uplifted parts of ourselves are very real and present, yet sometimes we seem to need a prompt.
Like a warm hug, the smell of jasmine or dancing freely to music that moves you, do you feel – as I do – that vibrant colour is a sure sign that life is good and joyful?
My artwork offers a way to give a wide berth to the generic and set your enthusiasm free!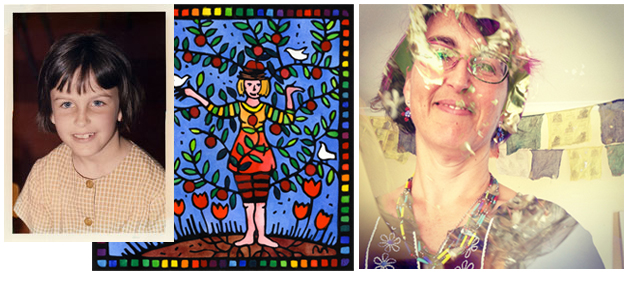 My first and forever significant teacher was Ruth Tuck, a knowing old lady in a floral dress. In her 60s, she wasn't much taller than I was at 7.
Imagine Ruth showing me and the other enraptured children how to magically make a picture – right before our young eyes. She'd start with a sheet of (very good) white paper and chatted all the while about colour and famous artists as though she knew them personally – some she did!
Ruth shaped my sensibility early in my life – so much so that it's not always easy to put into words – and she thoroughly instilled and intrigued me with the possibilities of art and especially colour!
Ruth's art lessons were drenched in an implicit approval of us as both children and artists, and punctuated with her wonderful irreverent laughter.
I learned from and taught for Ruth Tuck for many years. I've also studied Graphic Design – twice! – and other things, both in person and using the wondrous internet.
Between the age of 7 and now I've lived through my fair share of experiences, the long-winded details of which I won't recount here – you'll hear them crop up from time to time in my blog! Suffice to say that the bumper sticker statements "Shit Happens" and "Miracles Happen" both ring equally true to me!
You won't find here:
limited or muted colour pallettes
sweeping landscape vistas
photo-realism
sad art to make you glum
You will find:
human scale art for kitchens, offices, bedrooms and altars
an abundance of nasturtiums and other perfectly common garden flowers
colour that resonates and domesticity vivified
accessible, multi-coloured muses
Essence of Happy Place, and
a generous handful of very sweet feline interlopers :)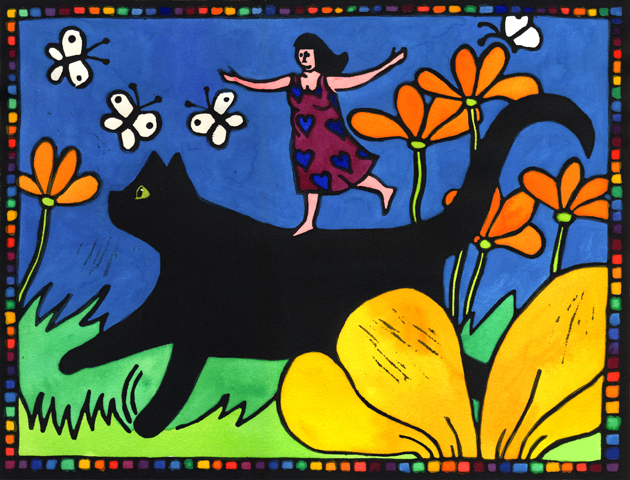 If I'm not painting, I might be:
making my way through episodes of Start Trek DS9, Gilmore Girls (watched the new, now revisiting the original) or The Big Bang Theory
watering my nasturtiums, herbs, veggies and fruit trees with washing machine rinse water via an array of bright plastic buckets,
at the Farmers Market
listening to Aussie comedians' podcasts in my headphones while out for a walk or jog, or
throwing up my hands in dismay at a building industry that seems oblivious to the benefits of passive solar architecture – for the love of our planet will someone please tell house designers to face the living areas North? (in the Southern Hemisphere).
Click here, to hear what other bold souls in our tribe say about my art.
Talk soon!
Much love,
Meg x o
PS Come on this curious adventure with me? Sign up for Studio eLetters direct to your inbox each month, here:
Save
SaveSaveSaveSave