Come in, sit down, put your feet up here in the sun (squeeze in next to the cat if need be)! A cup of sweet, hot chai for everyone :D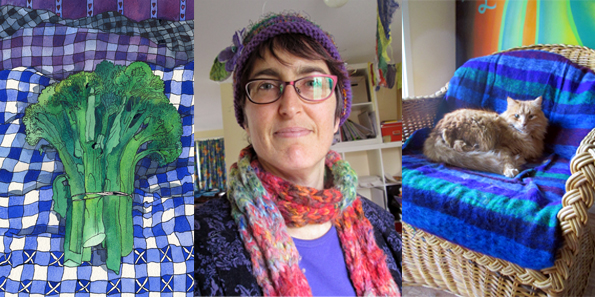 I make colourful, joyful Bold Art!
Why do I love boldness, art, joy, juicy colour, gardens and stripes so much? Those are indeed constant points of musing! Maybe partly because:
"The pursuit of truth and beauty is a sphere of activity in which we are permitted to
remain children all our lives." … Albert Einstein
Find out more? Check out my Bold Art Emporium (art shop), story, or follow my blog.
Gifties, gifties, printable gifties!
Bold Soul, did you know you can download printable bookmarks and/or bookplates as a welcome freebie from me to you? And, if you're gnashing your brain trying to sort out How to Frame Your Lino Print (or One of a Kind Watercolour or other artwork on paper) check out my downloadable leaflet (by the same name). Let me know if it's useful!
Want to get fresh [Tangerine Juice] eNews in your inBox?
The most direct and stylish way to keep in touch is sign up for my eNews here! As a subscriber you'll be automatically in the draw to win a Bold Art print each month. [Tangerine Juice] arrives monthly-ish with early bird whispers, the freshest art (the paint is only just dry!) and sneak peeks and there's now an extra picture email each month with a re-cap of my instagram pics! Include your birthday on the orange sign-up form and you also get a fun Birthday Email. On your birthday.
Other ways to to say "Hi": Like my page on Facebook, follow me on Instagram, share beautiful bold things on Pinterest, catch up with the latest goings on in my blog or tell me what you really think in 140 characters on Twitter!
Need some extra, special care? Drop me an email – I'd love to hear from you!
See you soon, kindred spirit!
Love Meg x o