Welcome bold soul, to my world of colorful bold art!

Take a seat and put your feet up, here in the delicious afternoon sun – beside the cat perhaps. I'll put the kettle on :D
Why do you and I love boldness + art, joy + juicy colour, gardens and stripes so much? Those are indeed constant points of musing! Maybe partly because:
"The pursuit of truth and beauty is a sphere of activity in which we are permitted to remain children all our lives."
~ Albert Einstein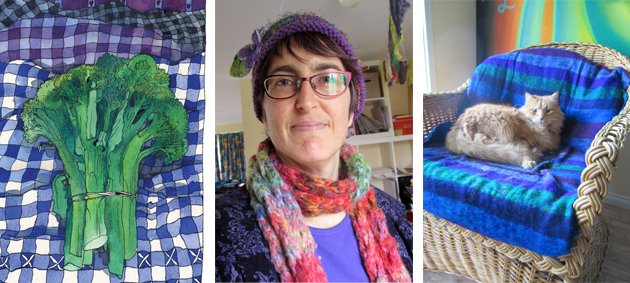 Subscribe to [Tangerine Juice] Studio Letters, for fresh bold art news direct to your inBox!
The boldest – and easiest – way to get my bold art news is: sign up for my Tangerine Juice Studio Letters here! Tangerine Juice Studio Letters arrive monthly-ish with early bird news from the heart of my studio, the freshest art (the paint is only just dry!) and joie de vivre. Include your birthday on the orange sign-up form to get a fun celebratory email on the day. As a subscriber you'll even be in the draw to win a Bold Art print each month!
New here? Here are some blog posts to get you started:

Cats aren't perfect but we love and make art of them anyway. And lose them.
Sometimes I interview wonderful people. Sometimes I make lists – one of my favourites is this one on the bold art of bike riding.
Other times I muse about health (including the making of thyroid bold art and the thanking of piggies), Sunshine, women, flowers and courage, bold art and happiness and life, society or the positive side of social media.
Bold Art Gifts for You
Cups of chai tea & gluten free biscuits don't (yet) transmit well via the net… but instead I'd love you to download printable bold art as a welcome gift, from here: bookmarks and/or bookplates.
And, if you're gnashing your brain trying to sort out How to Frame Your Lino Print (or One of a Kind Watercolour or other artwork on paper) check out my downloadable leaflet (by the same name). Let me know if it's useful, and if you have other bold art questions :)
'Talk' soon,
Love Meg x o